Evercore Supreme COB | Tam spectrum COB - Sunlight Serisi
Avantajları: lighting source for high-end landmark project.
Formula to simulate the spectrum of sunlight , conform to the standard of the advanced color evaluation system.

Ra>95 Lumens, efficiency >100lm/W, high color fidelity Rf:95, high color saturation Rg with 2 options : 100 or Rg>100.

National Invention Patent, advance technology.

Conformable and styled lighting effect , natural presentation of the objects.

Universal size, easy to install and uninstall.
Feature: Full-spectrum, high saturation, similar to the sunlight.
Ra-R15 >90, R9>90, healthy ,comfortable, natural.

LM-80 Certified.

3 years /30000H working life warranty.

Chromatic aberration <3SDCM, good color consistency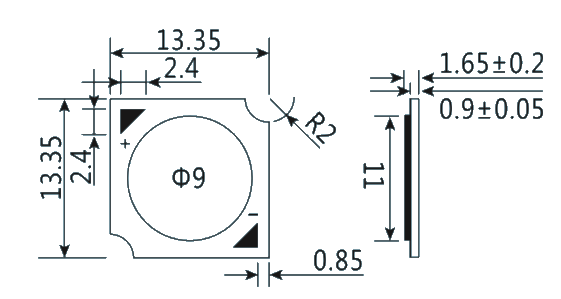 | | | | | | | | | | |
| --- | --- | --- | --- | --- | --- | --- | --- | --- | --- |
| NO | Product Model | Rated Power      (W) | Rated Current (mA) | Max. Current (mA) | Min Voltage (V) | Max Voltage (V) | CCT        (K) | Luminous efficacy (lm/w) | Ra |
| 1 | BH1311-0112J4W30S-Y | 4 | 120 | 160 | 34 | 40 | 3000 | 100 | >95 |
| 2 | BH1311-0112J4W40S-Y | 4 | 120 | 160 | 34 | 40 | 4000 | 105 | >95 |
| 3 | BH1311-0112J4W50S-Y | 4 | 120 | 160 | 34 | 40 | 5000 | 105 | >95 |
| 4 | BH1311-0212J9W30S-Y | 9 | 250 | 350 | 34 | 40 | 3000 | 100 | >95 |
| 5 | BH1311-0212J9W40S-Y | 9 | 250 | 350 | 34 | 40 | 4000 | 105 | >95 |
| 6 | BH1311-0212J9W50S-Y | 9 | 250 | 350 | 34 | 40 | 5000 | 105 | >95 |
| 7 | BH1311-0312J12W30S-Y | 12 | 350 | 400 | 34 | 40 | 3000 | 100 | >95 |
| 8 | BH1311-0312J12W40S-Y | 12 | 350 | 400 | 34 | 40 | 4000 | 105 | >95 |
| 9 | BH1311-0312J12W50S-Y | 12 | 350 | 400 | 34 | 40 | 5000 | 105 | >95 |
| 10 | BH1311-0412J15W30S-Y | 15 | 400 | 500 | 34 | 40 | 3000 | 100 | >95 |
| 11 | BH1311-0412J15W40S-Y | 15 | 400 | 500 | 34 | 40 | 4000 | 105 | >95 |
| 12 | BH1311-0412J15W50S-Y | 15 | 400 | 500 | 34 | 40 | 5000 | 105 | >95 |